On December 6, 2004 the first public performance of Yamaha Vocaloid that we know of, took place. It happened in Novosibirsk, Russia in the Main Concert Hall of State Philharmony on the event called "Polyphony Studio 5th Anniversary Concert".

This 4 -hour concert was hosted by the manager and sound engineer of Polyphony Studio Yuri Isakov in an unusual style of a "Recording session in a studio".

Among the participants, featuring well known Novosibirsk bands and musicians like The Vladimir Tolkachov Big Band, The Pavel Sharomov Vocal Band, Alexander Tourigin's Romantic Jazz Quartet, The Novosibirsk Youth Symphony Orchestra, The Novosibirsk University Choir and The KrAsota ensemble, Natalya Soboleva, Roman Stolyar and many others, was one very unusual artist - Yamaha Vocaloid. It performed the song "Sad Mondays" *, (Tune - R.Dattatreya, Lyrics - I.Fomchenkov, Arrangement - A.Ustinov). The vocal performance, done with the voice of Miriam was accompanied by live musicians Alexander Bazanov (drums), Artyom Lapin (bass), Eugene Kolmakov (guitar) and Nikolay Panchenko (saxophone). As you understand, this is the experiment in the inverted use of "minus 1" recording. Usually such track has everything but the voice, but here it was the other way round, with everything save for the voice done 100% live.

During the song, which was greatly enhanced by equally impressive and sensual dance performance by artists Ekaterina Basalaeva and Olga Sheina (courtesy of Vampeter theater) a phone connection was established with New York City, and the song author, the president of Jasmine Music Technology Dr. Ravi E. Dattatreya expressed his delight in the fact that his song was performed in public by such an unusual artist. He said: "We at Jasmine Music are now working to improve this technology. I am glad to be part of the first public performance of Vocaloid! Please tell the audience that this is an experiment, and we ask their forgiveness in advance." Dr. Dattatreya also thanked the musicians, the dancers and the audience and wished them all a Happy New Year.

The audience's reaction to this performance was rather controversial, ranging from "This can't be!" and "Great, now a robot can sing!" to "This is pointless, because it's interesting to no one" and "There's no room for robots among live musicians!" Fully realizing the reason for such reaction, the main thing should be noted - the first public performance of Vocaloid Miriam has now become a fact. How natural and close to the real thing this artificial vocal is - well, that's a different question. We have witnessed another type of virtual objects/models entering our life. And it's apparent that this process can't be stopped now, for every step in developing computer technologies sets the mark in competition between a human being and a robot (or a piece of software) higher and higher.

Just a few seconds to go - the musicians are making their final adjustments.




And the band played on...




The universal language of dance...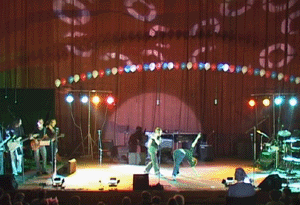 In the middle of extravaganza... Miriam is out there!