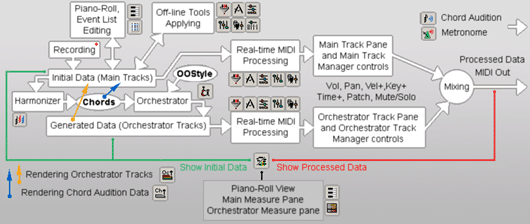 This diagram shows Onyx basic program modules and sequence of MIDI data processing.

There is a principal difference between Initial Data, Generated Data and Processed Data. All of them are shown in Piano-Roll view, Main Track Pane and Orchestrator Track Pane. However, Initial data only can be edited directly in Piano-Roll and Even List. Generated and Processed data are the results of real-time work of Orchestrators (+ FXs transformation), Chord Audition, or FX's transformation of Initial data on the fly. This approach gives greater flexibility for music data creation - you can edit Initial data in Piano-Roll and Event List, or can apply Offline Tools (Quantizer, Event Filter, Controller, Drum and Time-Pitch Adjusters, Performance Modeler). Then the data can be transformed by the chain of real-time FXs, which you have built. Only one thing requires your attention - what type of data is shown at this moment: Initial Data or Processed Data. Onyx indicates this in the status bar showing Green or Red boxes, with the appropriate information.

How you can edit Orchestrator Tracks or Chord Audition data by a single event? You can use Rendering commands, which convert Generated Data of Orchestrator Tracks and Chord Audition data into the Initial Data. When they will be rendered into the Main Tracks they become accessible for editing in Piano-Roll and Even List.